A brief history of a sculptor
Robert Holmes was born in 1927 in Missouri. Growing up during the Great Depression, people of his nature excelled by letting their practical side guide them down the path from survival to success. He was instinctively talented as a young man in his teens, helping building and later designing homes with his father. Robert put himself through college, earning a degree in civil engineering from the University of Arizona.
He progressed through the trades at a rapid pace; he earned professional status in years far ahead of schedule. In the early 1950s, he moved to the San Francisco Bay Area, where at a relatively young age started Robert Holmes Construction, Design, and Development company. He specialized in designing contemporary homes for select clients in the sparsely populated stretch along the peninsula.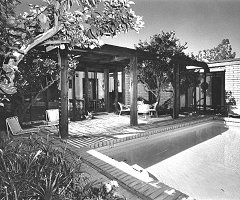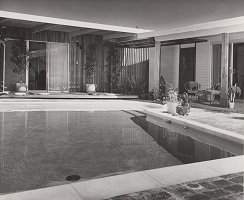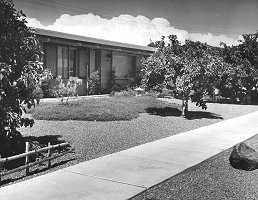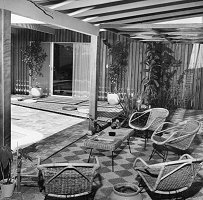 In 1958, he moved his business to back to Arizona, where he became one of the most successful custom luxury home builders in the burgeoning Phoenix area for three decades. He also designed and built banks, bridges, apartments, manufacturing plants, and churches.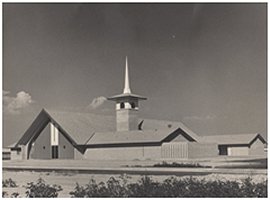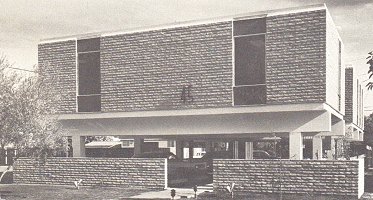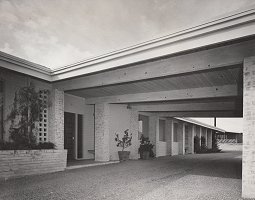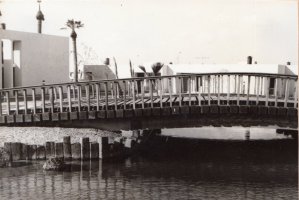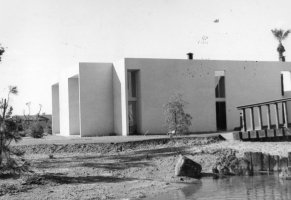 He designed interiors as well, and staircases and tables were his specialty.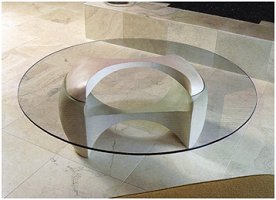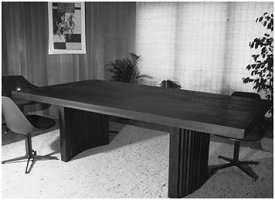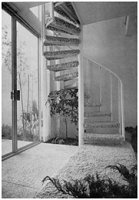 During that period of he slowly honed his craft in another field: sculpture.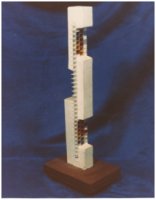 Pos Neg study 1966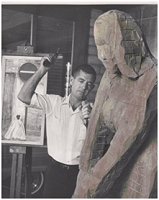 Robert Holmes circa 1970
Robert sold his building business in 1981. It was at that point he decided to pursue his sculpting passion exclusively. Robert and his wife Edith moved to Sea Ranch, a community 2 hours north of San Francisco. That is where he began his second career as a sculptor and Edith as his partner and agent. Agreeing to take this new direction on life together, Robert and Edith forged a renewed partnership for twenty five years.
A new path: bringing the fine art to a national stage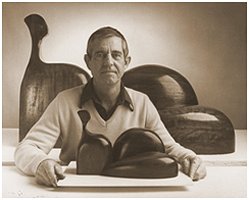 Most sculptors struggle to keep their artistic vision intact while negotiating the rough waters of science, industry, and marketing. Robert's formal, and some say a classical training in engineering was going to prove the key to his success. Robert met Charles Feingarten, a world renown art critic and New York gallery owner who was responsible for introducing the bronzes of Rodin to America. Through
Mr. Feingarten's encouragement, Robert began his foray into bronze.
It was in New York where he achieved immediate success.
As time went on, he gained national exposure. Galleries from coast to coast sought to represent him. The art world taught its emerging artists back then
(as it is still teaching now), that marketing is only as good as its presentation. Presentation was the thing Robert, as a civil engineer, already had experience in. Long before CAD and computer graphic programs, he relied on an old school device that would pay dividends regarding selling his large scale work. Creating scale model environments that integrated his miniature model designs,
Robert communicated in a language developers,
architects, and private collectors understood.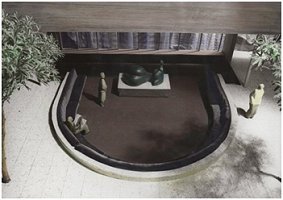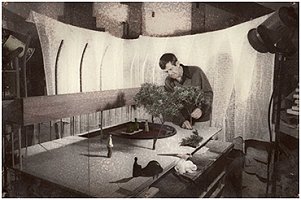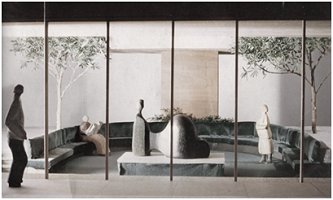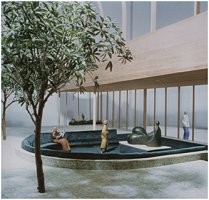 With confidence in the stability of the sculpture, in the ease of the installation,
and in meeting the specs of the city's code requirements, large firms allowed Robert to be involved in the early stages of production. It was noted by professional art consultants that Holmes' art expressed a nurturing, non confrontational, and inviting quality that was perfect for public settings.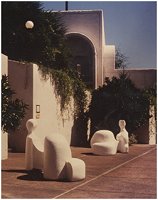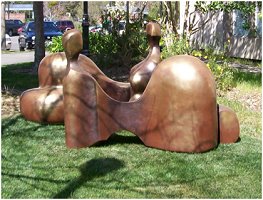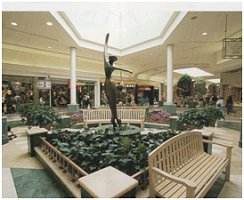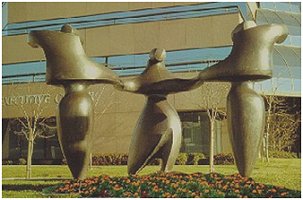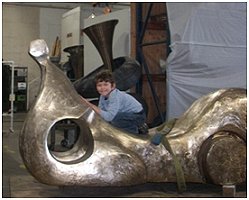 When art meets industry
Robert's voyage converting his ideas to bronze was born of trial by fire. He worked with a dozen foundries but was not satisfied with the overall experience. In 1989 Robert created his own bronze art foundry he called Bronze Plus, in a town about an hour and a half from Sea Ranch. This allowed him to control the means of production, thus ensuring quality for his galleries and personal clients. He oversaw in all aspects of production, and worked in close conjunction with all artisans of the art bronze foundry trade.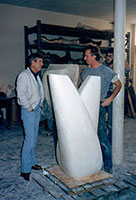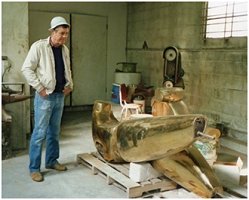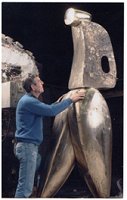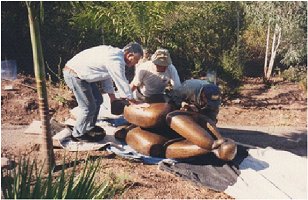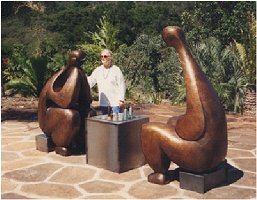 He set up a studio adjacent to the foundry as well as one at this residence.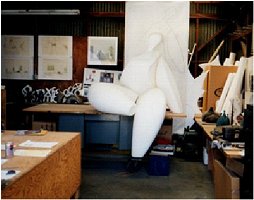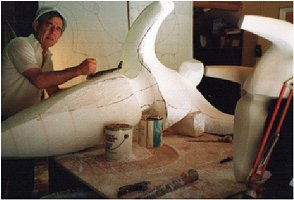 Since Bronze Plus was created to be a commercial corporation, other sculptors through the years have enjoyed the privilege of casting with his very personalized operation.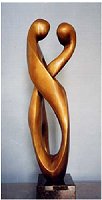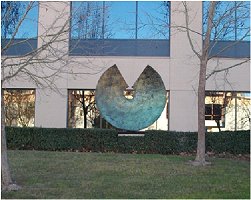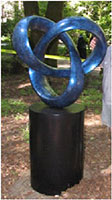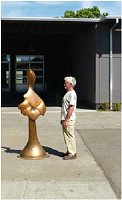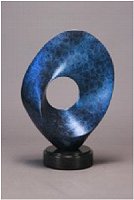 Robert Holmes Sculpture and Bronze Plus complemented
each other in a rare but effective business model.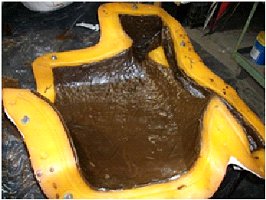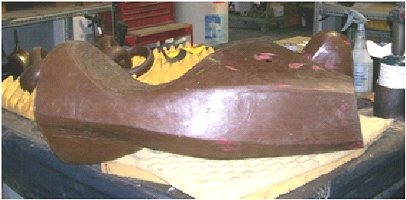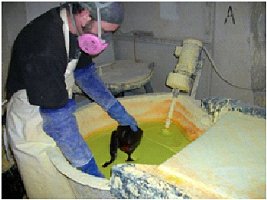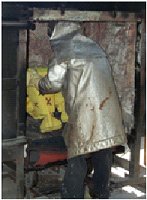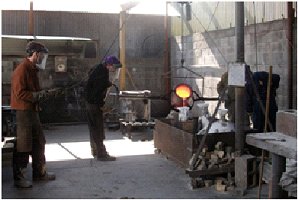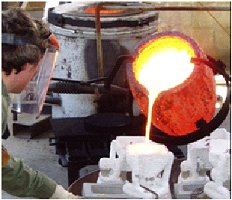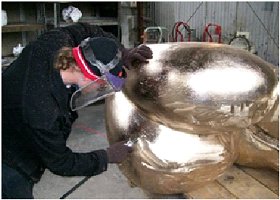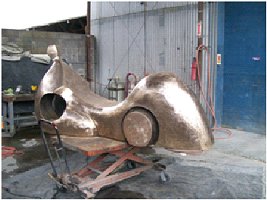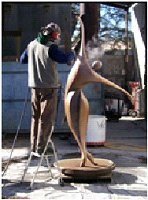 There he had private showings from early on that go on to this day...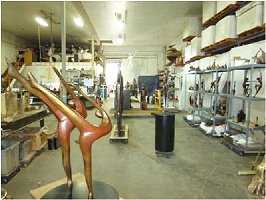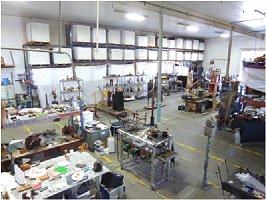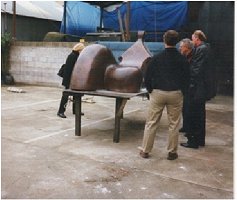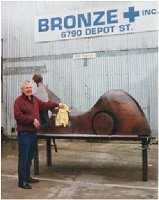 ...and to this day collectors are invited to see the final stages of production.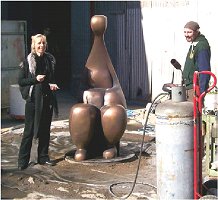 When fine art meets architecture
Never able to completely leave the trade that had rewarded him for nearly forty years, Robert went back to luxury home design building. But this time around, he integrated his sculpture into the design.
St. Andrews residence - Santa Rosa, California 2007: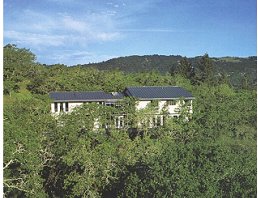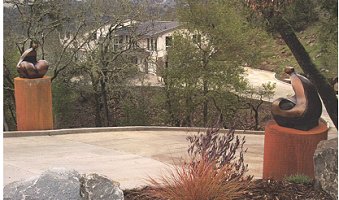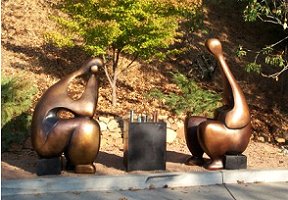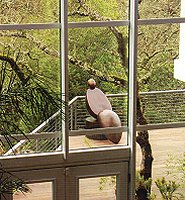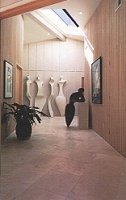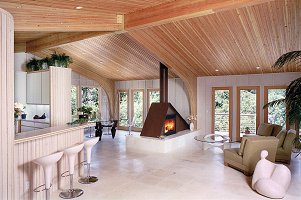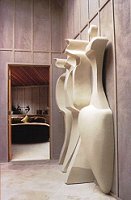 His last residential project drew critical acclaim and featured state of the art technology as well as his newest sculpture. Each was carefully chosen because it had a purpose in the overall design.
Casa Tortuga residence - Santa Rosa, California 2012: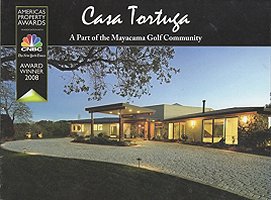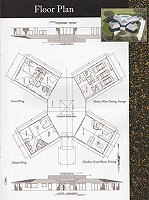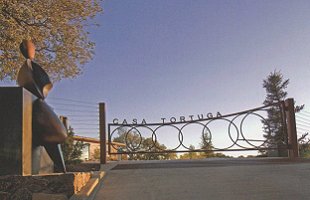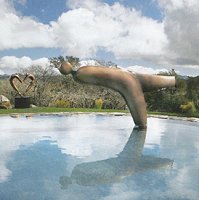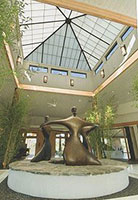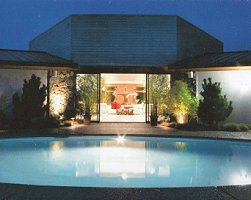 The cause and effect of the creative process
In all inventive trades, the slings and arrows of making an idea come to fruition take their own paths in both in creation and in time.
Creatively speaking, here are two types of sculptors, additive and subtractive. Additive artists start from nothing and construct material until their vision realized. Subtractive artists see in a block of a substance and carve until their vision is realized. For the most part, Robert is a subtractive artist.
"...I could see into a block not what needed to be taken away, but what needed to come out" he said in an interview in 2006.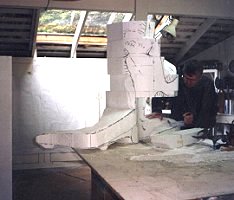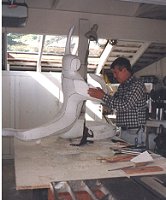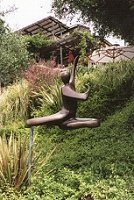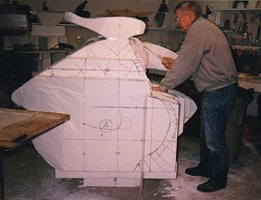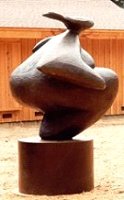 From the perspective of time, some are immediately created,
others take years; ideas evolve at different rates.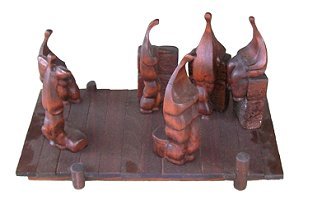 1980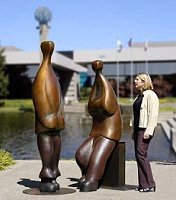 1992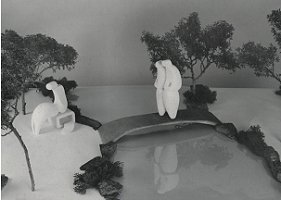 1973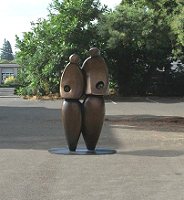 2000
Robert made shop drawings before committing to bronze, then made a small version before deciding to make it large. Again, some were immediate in creation, taking only a couple years to convert into bronze...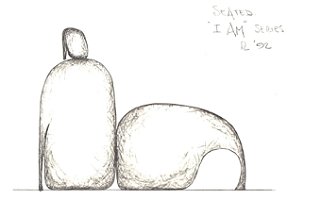 1992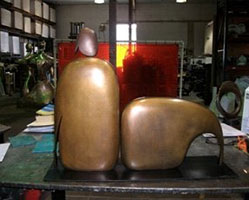 1993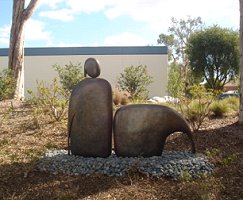 1994
...while others went through a drawn out process of metamorphosis.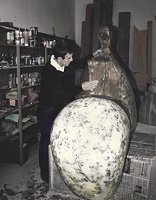 1972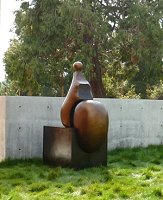 1992
After scaling up from miniature models and hand carving from giant blocks of styrofoam, Robert put his prototypes out into the public to see how people reacted.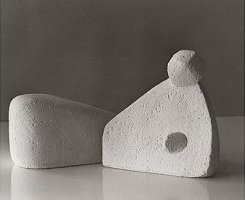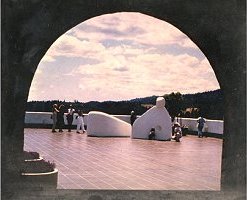 Robert Holmes' lifetime work was (and still is) hard to label in western culture art terms. Early on, New York critics categorized Robert's work as Mid Century Modern and Contemporary Traditional. Other critics now see his work being recognized in two broad expanses of major art history categories — Late Modern and 20th Century Contemporary. This puts Robert's work in the same company of Lachaise, Archipenko, Moore, Modigliani, and Noguchi. Regardless of the labels art critics choose, sculptors like Robert Holmes let us see light in a different way.
In 2003, Robert was awarded the Premio del Presidente/ Città di Firenze and the Premio Lorenzo il Magnifico medal for an artist's lifetime achievement at the fourth edition of the International Biennial of Contemporary Art in Florence, Italy.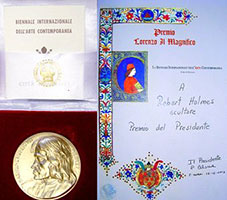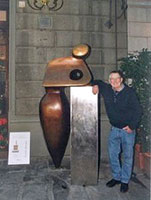 For a Robert Holmes Retrospective and a one man show, professor Richard Warren,
Art Historian and curator at Princeton University and Stanford University stated
"Robert Holmes, although self taught, is intuitively dead center of the development of modern sculpture. The restless, thrusting energy of Rodin, the abstraction of Brancusi, the expressionism of Lachaise, the symbolic power of Moore, are all echoed in his work."
Robert had this to say about his work in an interview in 2005:
"...when the construction business was slow, I blocked it out completely and started creating forms. That's all I thought about, and I knew those things needed to come out and be made real before I could concentrate on the commercial building project..."
"My work is my statement; I don't believe that words go very far in describing sculpture. I would rather let people see my work itself and interact with it in their own way."
Marilyn Camphor, philanthropist from Baltimore, had this to say
upon adding one of Robert's large bronzes to her collection:
"...My husband and I have been devotees of the visual arts for nearly three decades and, as such, have acquired several hundred paintings and three-dimensional works. From our viewpoint, each Holmes work we saw was a masterful creation, but the one that truly captivated us was "Conversation". We were firmly in agreement that "Conversation's" strong elements of design would make it an ideal addition to our eclectic collection and its scale was perfect for what I was envisioning for our garden site... I simply could not get the Holmes sculpture out of my head and, truth be told, none of my other options ever really had a shot — not just because I felt they didn't measure up to the artistic merits of "Conversation" — but because it's true: you never forget your first love and in this case..."
Jayne McGuire, in her review of Holmes' work for The
Del Mar Sculpture Garden in Del Mar, California, states:
"Holmes' contemporary figurative work, especially his life giving female figure, expresses a nurturing, universal quality which celebrates the joy of being, the joy of movement, and our basic human need for 'connectedness'. A consistent vitality is present in all of Holmes' figures, evident in the graceful movement of his dancers and runners, and in the solitary stillness of his reclining and seated figures."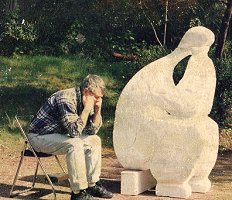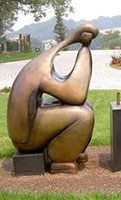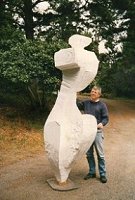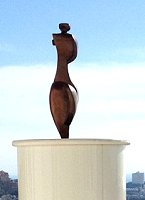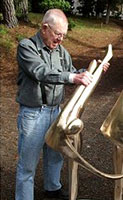 The artist - September 2012